*This is a marketing message. New cardholders can earn a $150 Statement Credit for spending $1,000 within the first three billing cycles after the account is opened. Must apply by 6/30/23 to be eligible. See the FordPass® Rewards Visa® Terms and Conditions in the Summary of Credit Terms provided at time of application. Points are not redeemable for cash or check and have no monetary value. Please see the FordPass Rewards Program terms and conditions at FordPassRewards.com for information regarding expiration, redemption, forfeiture and other limitations on FordPass Rewards Points. Must be enrolled in FordPass Rewards.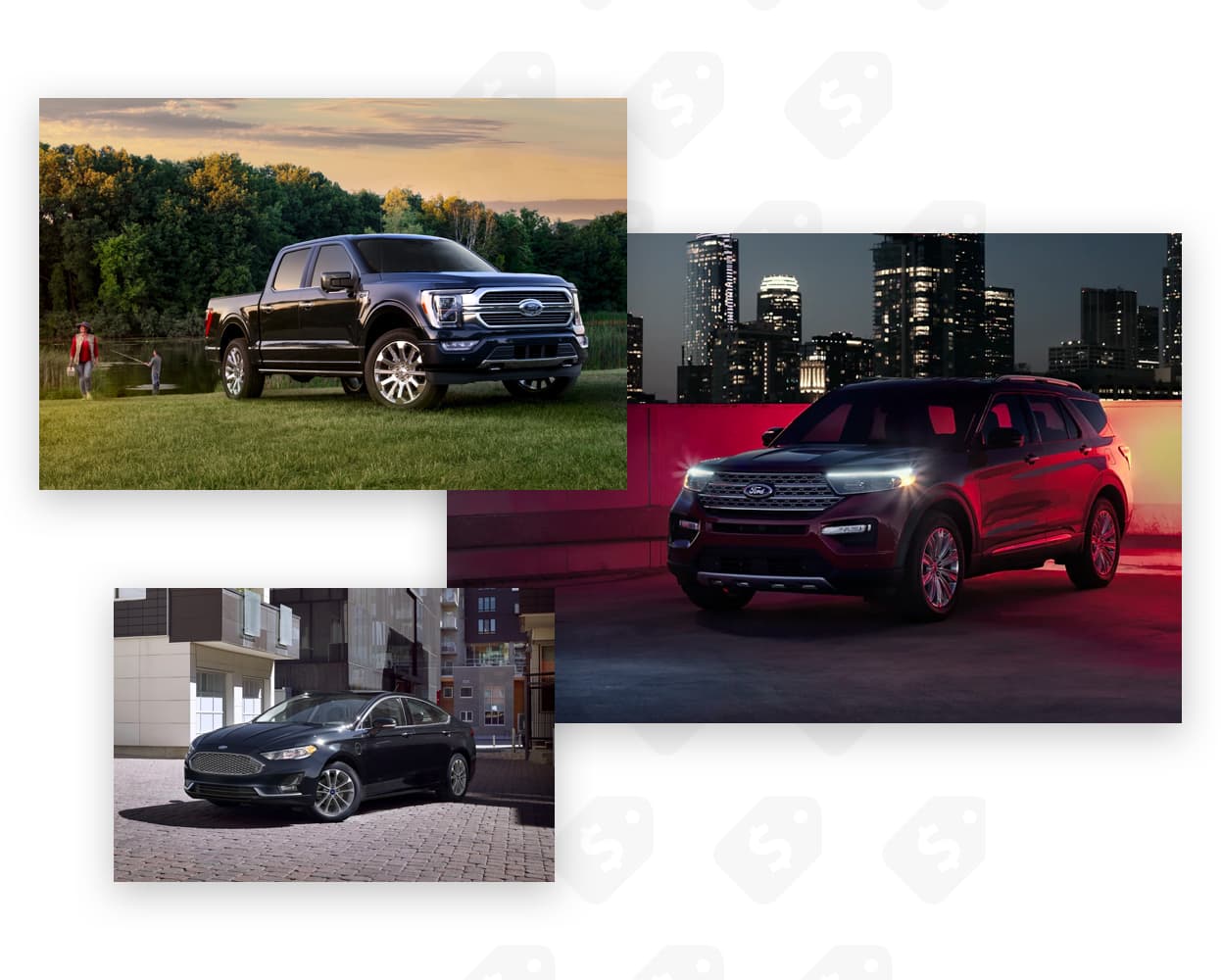 Take Advantage of This Month's Current Offers
Every month Ford releases incredible cash-back offers and special financing rates along with discounts featured in other special programs.

Arizona's Favorite Ford Car Dealership in Casa Grande!
The Best Since 1970
Are you in search of a reliable Ford dealer in Casa Grande? You have come to the right place! Welcome to Jones Ford Casa Grande! For over fifty years, our dealership has been the place to get a new or used Ford car, truck, or SUV near Sun Lakes, Coolidge, Maricopa, Florence, or Casa Grande. We offer expertise tempered with a family-friendly atmosphere and practical down to earth approach, and that's exactly why we're among the very best Ford dealers in Arizona.
Why Make Us Your Preferred Car Dealer in Casa Grande?
As a trusted Casa Grande new car dealer and Casa Grande used car dealer, you can expect a diverse selection of vehicles to suit every driver. Visit us today to find a solid selection of new Ford vehicles for sale and trade, as well as a carefully inspected lineup of pre-owned vehicles. We also have a well-connected finance center run by a qualified team of finance experts who can help you get the right loan or lease in a quick, easy, and transparent manner.
Our State-of-the-Art Service Center
Our Ford dealer in Casa Grande goes above and beyond for our customers. Our goal here at Jones Ford Casa Grande is to be the best dealership in all of Arizona. Our commitment to our customers continues well beyond the date of purchase. We also have a professional team of Ford technicians on hand with the skills and equipment to handle all manner of maintenance and repairs, as well as a full stock of authentic parts. Whatever automotive troubles you are faced with, we have the team, the technology, and the training to get you back on the road again sooner and for less!
Here is just a sampling of the services we offer as a top Ford dealer in Casa Grande:
- Oil Changes
- Tire Rotations
- Battery Replacement
- Wheel Alignment
- Vehicle Inspections
- And More!
Ready to see what makes us a preferred car dealer in Casa Grande? We look forward to earning your business, no matter if you require a Casa Grande new car dealer, Casa Grande used car dealer, or a reliable service center. Contact us today for more information.
Contact Us
RECENT GREAT EXPERIENCES!
This dealership has been very good to work with since we bought a new car from them in 2019! They service this vehicle now and do a great job! The people are friendly and knowledgeable and it's a pleasure to deal with them!!
I have purchased several trucks from these guys! Sales staff is very honest and never high pressure!
On 9/21/21 I came in for battery purchase and install and during the process of service, the technician broke the driver side door handle. When I came back to pick up the car, I pointed it out to the service writer who at first challenged then said she would need to talk with the manager and see what he wants done. She said she would have the manager call me back. I contacted again about a week later and the manager was not available and was asked to call back. I then received a survey form from Ford and I filled it out explaining the situation and not giving good marks. On 9/23/21 I received reply from my feedback, "New Survey Reply - Hello James, we are so disappointed to learn of this situation you have described. We would like the chance to talk to you further so please do call us at (520) 836-3100 at your earliest convenience so we can work with you to make this right. We hope to hear from you." I called back and they said I would need to come in. I decided to wait till my next oil change. On 11/1/21 I Spoke with Wade Matheson, General Manager regarding Handle that was broken September 21 during Battery Purchase and Install - Next day Service rep and Bob did work up on repair. Found out that he had minor surgery that turned into major and that my call had fallen through the cracks. He said they had just reviewed complaints that morning and found my complaint from the ford website which was today the same day I went in. Rep spoke up. Wade informed me that there would be no charge repair. On 11/9/21 Jones Ford resolved the issue by replacing the broken handle at no charge. My purpose for writing this is twofold, 1. To give commendation to Wade Matherson for restoring my faith in Jones Ford and it will have a major bearing on my next vehicle purchase, and 2. To give a 5 star review to balance out the negative review I gave earlier. -Best Regards James
I want to thank Wade Matheson for restoring my faith in Jones Ford philosophy of a small-town mentality in service to all. A sweet friend of our family was recently widowed but left a 2019 GMC by her husband because he wanted her to have a reliable vehicle AND local (Casa Grande) service. Due to circumstances beyond Jones Ford and our friend, her GMC was unable to be repaired in a 'short' time frame. However, she was also told there were was a shortage of cars to 'loan out'. When she and I spoke on the Tuesday before Christmas, she'd been without a vehicle for about two weeks. I told her I'd have a vehicle for her the next day...thankfully, she was willing to accept the loan. After she and I spoke I sent an email (offered by Jones Ford) expressing my concern over this matter. I, like many of us these past two years, was frustrated by the current climate in the business world that often uses covid, shipment shortages, employee shortages, etc. as an excuse for human kindness. My heart was touched by the words I received from Wade Matheson as he not only 'read' the facts of my email, but responded to the human being involved. He said he would look into the matter and by Friday, Christmas Eve, my friend had a new loaner vehicle from Jones Ford delivered to her house and a promise to keep in close contact on the repair of her GMC. Again, thank you, Wade, from a current Phoenix resident but a born-in and long-time resident of Casa Grande. Sincerely, Richard Sanders
Just moved to Arizona, was first visit to Jones Ford. From the minute I checked I was treaded extremely well, everyone was friendly, knowledgeable and personable. I scheduled an oil change, while Jones does not have a Quicklane, I was only there less than an hour.
I bought a 2020 Ford eco boost from this dealership everyone was of great help throughout the entire process especially Steve if you guys are ever looking to buy a new vehicle look no further these guys rock!
Jones Ford and their staff are top notch. They are friendly, dont take advantage of customers with markups, and gave me a fair deal. My salesman Chris was not pushy and answered all my questions to the best of his ability. If your looking for a vehicle I highly suugest Jones Ford.
The staff was courteous and polite. They quickly took care of the maintenance to our fleet vehicle and had us quickly back on the road.
Fast and friendly service.
The entire experience was pleasant. Since I had an order for a different vehicle and needed to make a change I anticipated problems, but my needs were accommodated and my expectations of difficulty were completely unnecessary. Everyone at the dealership from the sales staff to the parts staff, and even the cashier, was pleasant and truly seemed happy that I was a customer. I didn't spend a ton of money, but I was made to feel like the best customer to drive out that day.
We had a great experience with the entire team at Jones Ford in Casa Grande.
This was my first time working with this dealer and Jones Ford made the buying process simple and smooth! Staff was polite and easy to work with.
Very professional and helpful staff.
Jones Ford Casa Grande has provided me with excellent customer service for over 11 years. Hats off to them and especially Guido "Chris"-- he's the BEST!
Love this place my dad and i have both purchased vehicles here so has a good friend of mine we will continue coming back aslong as mr. paytosh is there as an advisor and vince for sales
Thank you for the quick service and the professional attitude we are moving out of state but we will miss Jones Ford and they're great employees
Great customer service. Eric in Service Dept is kind and courteous. Always has a smile on his face.
All work was done expertly and on a timely basis. Service people were informative and courteous. Excellent job
Always treated well at Jones Ford. The staff was right out to greet me and verify my appointment time. The service was great, no problems.
Natasha my service advisor was amazazing! She was very friendly and professional and she is the reason I will keep coming back. Thx Jones Ford for employing her.I would highly recommend Jones Ford and Natasha!
We're from out of town, so this was our first experience with the service department at Jones Ford. We'll return again, as they were quick, efficient and friendly.
Jone's Ford has an excellent, polite and professional service staff and I plan to continue to use their facility for all of my service needs in Arizona.
Jones Ford Casa Grande
1932 N Pinal Ave
Casa Grande, AZ 85122
Sales:
888-355-1744
Service:
888-378-4954
Parts:
888-390-0101
Directions